3D ToWer SIMulator
3D TWR-SIM - 3D ToWer SIMulator - is an air traffic simulator developed by Vitrociset, based on the ATRES (Air Traffic Environment Simulator) engine.
This simulator can create a totally immersive reproduction of the view from an airport control tower, enabling air traffic controllers to be trained in a highly realistic simulated scenario, and instructors to test the ability of the student in standard, complex and unconventional scenarios (e.g. faults, aircraft fires, SAR procedures, adverse weather conditions and visibility).
The 3D-TWR-SIM simulates aircraft during take-off and landing and the movement of all vehicles in the airport area.
Integration with a High-Fidelity Dolby Surround 5.1 audio system, driven by a software package specifically developed by Vitrociset, can make the surrounding environment even more realistic. This system is able to mimic the sounds heard in a real operational centre and is adjustable in direction and power.
The 3D simulator runs and displays combined land-air scenarios, enabling the creation of the gate-to-gate paradigm.
The system in its full configuration, comprises:
a fully immersive presentation that mimics a real-time simulated airport scenario as if viewed from the control tower;
a high-resolution projection system using seven Sanyo PLC-UF15 projectors at UXGA (1600x1200) resolution that mimic the surrounding environment and the movement of aircraft and service vehicles in the airport area. The projectors are configured to produce a single virtual image curve with no discontinuities in order to provide a full horizontal view from each point of the tower and a vertical vision of more than 40°;
a high resolution (IDX2500 Quantum3D) image generation system (Visual Image Generator) consists of a controller and seven channels. Each channel generates the portion of the scene displayed by the individual projector;
binocular functionality that uses physical instruments, similar to real optical binoculars.
The simulation system provides an effective training through:
highly realistic simulation of real-life situations, such as the views from the control tower;
3D visual representation of the whole airport scenario, which includes runways, ringroads, buildings, vegetation, roads, mountains, airport lighting, accurate rendering of aircraft models, liveries, and vehicles, etc.;
the ability to set different weather conditions;
lighting conditions consistent with the time of day and day of the year;
the possibility of reproduction of environmental events (e.g. fire).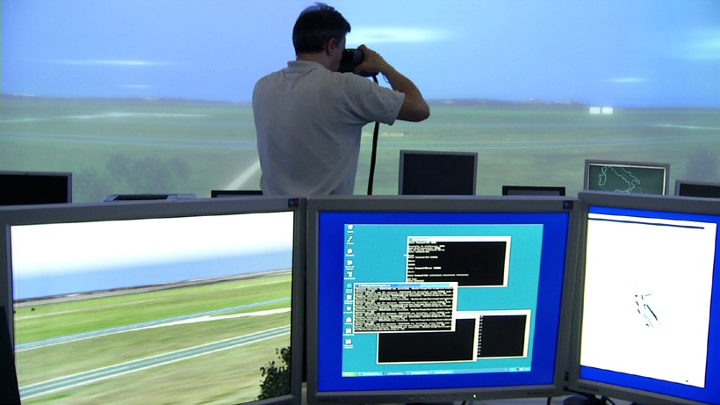 The system, with the same application functions, can be set in lighter configurations with, for example, partialisation of the number of graphics channels and a consequent reduction of the horizontal visual field, and the use of normal LCD screens instead of projectors (which implies a reduction in the vertical field of view). This solution can also be installed in less demanding operational contexts, for example in an area smaller than a dedicated room.
Discipline is the bridge between goals and accomplishment.