Vaisala Automatic Weather Station AWS310
The Vaisala Automatic Weather Station AWS310 is a complete solution for professional weather measurement. The AWS310 provides all of the weather data you need for making confident decisions about weather forecasts. The design quality of Vaisala weather stations has been proven not only through extensive tests in the development phase, but also in the field with over 20,000 installations worldwide.
Overview
When you choose the Vaisala AWS310, you get a complete communication and data monitoring solution, including sensor, electronics, mast, and power supply – everything you need to start taking accurate and reliable weather measurements.
The main benefits of the AWS310:
Common options preconfigured; also fully customizable for special needs
WMO-compliant sensors for validated data
Remote configuration management
Easy remote monitoring of network status via optional NM10 software
Long calibration intervals
Fast delivery for preconfigured systems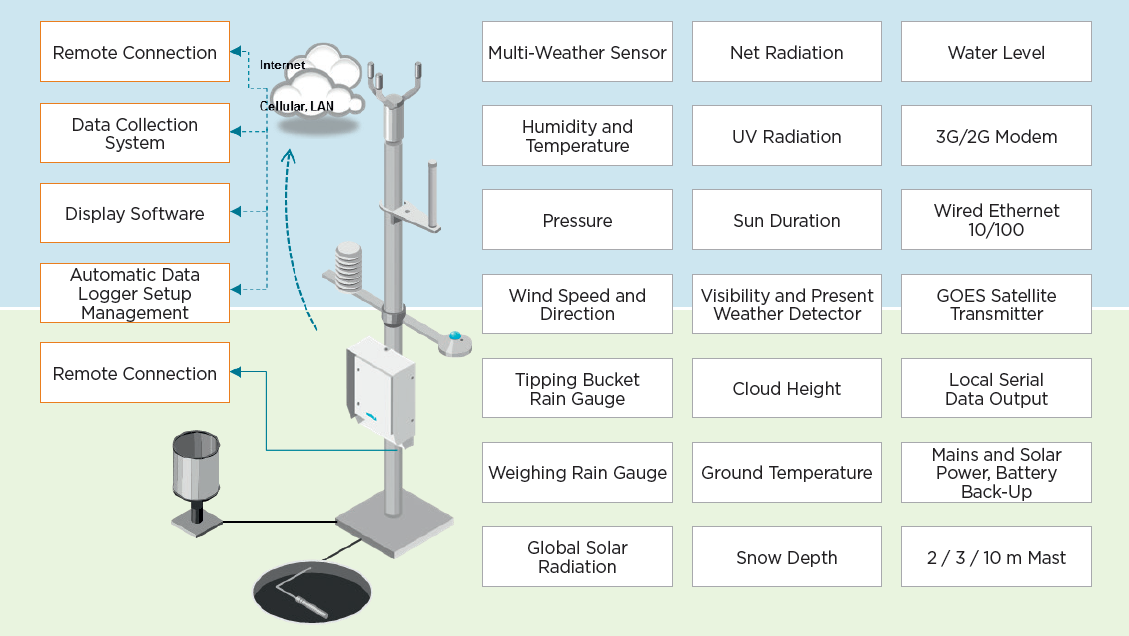 Technical Specifications
Data Collection Platform
Vaisala Datalogger QML201
Operating temperature
-40...+60 °C
Storage temperature
-60...+70 °C
Humidity
0...100 %RH
Environmental tests: Operating
Dry heat
IEC 60068-2-2
Cold
IEC 60068-2-1
Damp heat
IEC 60068-2-30
Environmental tests: Storage
Dry heat
IEC 60068-2-2
Cold
IEC 60068-2-1
Damp heat
IEC 60068-2-30
Environmental tests: Transport
Vibration (random)
ETSI EN 300 019-2-2v2.3.1
Rough handling (free fall etc.)
ETSI EN 300 019-2-2v2.3.1
EMC tests
IEC 61326-1- Industrial Standard
Electrostatic discharge
EN 61000-4-2
Fast transient burst
EN 61000-4-4
RF field immunity
EN 61000-4-3
Transient surge
EN 61000-4-5
Conducted RF immunity
EN 61000-4-6
Immunity to voltage dips and short interrupts
EN 61000-4-11
Safety tests
Electrical safety
IEC 60950-1
Enclosure protection and IP class
IP66 acc. IEC 60529. Sand & dust
test acc. MIL-STD 810 G
Method 506.5 Procedure 1
Enclosure materials
Stainless steel AISI316L, painted white
Enclosure size
600 (H) x 500 (W) x 200 (D) mm
Mast
Tiltable 2/3/10 m pole mast
Weight
Enclosure approx. 30 kg
10 m mast with sensors 75...125 kg (composite mast)
150...200 kg (aluminum & steel mast)
Maximum wind speed
75 m/s with 10 m mast and two guy wire sets
Powering
90...264 VAC, 45...65 Hz
12...24 VDC recommended (30 VDC max.)
Solar panel
30W / 2 x 30W
Internal battery
Up to 52 Ah / 12 V
Battery regulator
Charge/recharge control
Temperature compensation
Deep discharge protection
Simultaneous inputs from solar and AC (mains) power allowed
*More detailed technical specs, please see the AWS310 datasheet.
It is not about ideas. It is about making ideas happen.