TitanSMA
Summary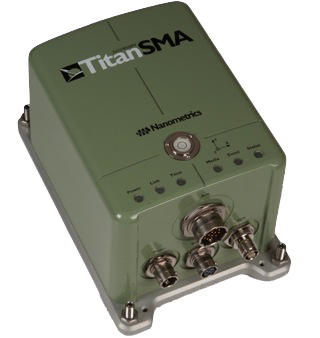 The TitanSMA is a strong motion accelerograph specifically designed for high-precision observational and structural engineering applications and research requiring exceptional dynamic range over a wide frequency band.
The TitanSMA features the Class "A" Titan triaxial force balance sensor, with its low noise floor, exceptionally low hysteresis and industry-leading dynamic range. The integrated digitizer and recorder facilitate both standalone and networked free-field monitoring deployments.
Users get seamless access to events and recorder data (PGA, PGV, PGD, Sa) as well as instrument configurations and control for each TitanSMA and all TitanSMAs within a network with any web-enabled device via the events page resident within the GUI of each individual accelerograph.
Data is readily available via streaming to a central server or retrieved on demand from a central site. For non-networked instruments, data is easily retrieved via removable SD card, or downloaded onto an external USB drive on demand, in MiniSEED or ASCII formats.
The TitanSMA is ideal for civil defense applications with its ultra-low latency (down to .25 seconds), real-time processing and transmission events and network integration capabilities for event triggers and voting.
Nanometrics' TitanSMA might be right for you if:
You require the highest quality data sets
You're looking for exceptional dynamic range over a wide frequency band
You want easy access to events, recorder data and instrument configurations and control via a web browser
You're carrying out civil defense applications, like early warning systems or shake maps
Specifications
Specifications are subject to change without notice.
DIGITIZER PERFORMANCE

Channels
3 internal X,Y, Z axes
Sampling
Simultaneous
Type
24 bit successive approximations
Digital Filter
140 db attenuation at output Nyquist
Filter Type
Linear phase (contact us for other options)
Dynamic Range
>138 db @ 100sps (max sine wave above shorted input)
Sample Rates
10,20,40,50,80,100,200,250,500,1000 sps
Dual Sample Rate
Decimate primary rate by factor 2,5,10,20,50,100,200,250
Sensitivity
2,4,8,16,32 and 64 digitizer counts per ug, +/-1%

CALIBRATION

Digital Calibration
Playback audio files created in standard .wav file editors
Step, 1Hz sine, PRB files pre-loaded
User installed custom waveforms
Analogue Calibration
(Available on SMA)
Single (+/- 10 V) voltage input for all 3 channels
+/- 2g full scale

EVENTS

Type
Bandpassed STA/LTA or threshold
Trigger Selection
Independent threshold or STA/LTA ratio for each channel
STA/LTA Trigger
Configurable STA,LTA,LTA Latching, trigger, and de-trigger thresholds
Trigger Votes
User set votes assigned by channel, transmitted via IP multicast
Threshold Trigger
Selectable from 0.01% to 100% of full scale
Event Statistics
Peak ground acceleration, Velocity, Displacement, Sa (0.3, 1, 3 Hz)

COMMUNICATIONS

Interfaces
10/100 Base-T Ethernet, RS 232 serial
IP Addressing
Fixed IP or DHCP
Protocols
UDP/IP (unicast/multicast), or HTTP-based (inbound or outbound) streaming
Status LEDS
Power, Ethernet, Timing, Media, Overall Status and Event Notification

POWER

Type
9-36VDC isolated input
<3W quiescent, Ethernet active

TITAN SMA SPECIFICATIONS

Timing Type
Internal GPS receiver
Data Retrieval
Direct download via Ethernet
Media Exhcange (USB, SD)
CONNECTORS
Power, Ethernet
Mil-Circular
USB
2.0 Type A receptacle (behind media door-SMA)
GPS Antenna
TNC Connector with 3.3V supply for active antenna receiver
Multi-Function
External calibration signal
Mil-Circular (Available)
Relay: Contacts for low voltage control
Additional USB (external connector)
Recording
High Capacity internal CompactFlash (CF)
Removeable SD card, FAT32
Life is not a problem to be solved, but a reality to be experienced.