Trident 305 Digitizer
Summary
The Trident 305 is an industry-leading digitizer, designed for use with the Taurus Portable Seismograph or Cygnus transceiver. The Trident 305 features 24-bit performance in a compact, robust package offering typical dynamic range of 142 dB.
The Trident 305 Digitizer's versatility allows for an optimal network design flexibility. Numerous Trident 305 digitizers can be daisy-chained to form a multi-channel system. Such scalability makes Trident 305 well suited to fixed, portable and structural monitoring networks.
Because the Trident 305 Digitizer includes comprehensive seismometer control functions, it allows for seismometer mass centering, mass positioning, monitoring and calibration from a central site, eliminating the need for frequent site visits.
Since the Trident 305 is not packaged with communications interface and timing systems, it can be deployed within the seismometer vault's temperature-stable environment for improved long-period performance and superior data quality.
In addition, the Trident 305 Digitizer supports bi-directional data communications, timing and power distribution, allowing for a simple twisted-pair NMXbus cable between the digitiser and the communications interface. This feature eliminates the need to use long RF and GPS cables to accommodate the positioning of GPS, VSAT or RF antenna, reducing cost and increasing site configuration options.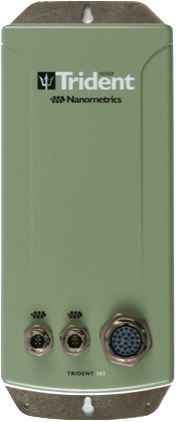 Benefits
Superior performance, true 24-bit resolution with 142 db dynamic range
Versatile software programmable front-end gain to support a wide range of sensor types
Remote mass centering and calibration functions, ideal for broadband applications
NMXbus technology provides freedom in placing remote site components
Complete system response calibration using pseudo-random binary signals
Scalable design that allows individual 3-channel units to be configured separately and daisy-chained for multi-channel systems
Specifications
Specifications are subject to change without notice.
SENSOR INPUTS

Channels:
Sampling:
Input Voltage Range:
Gain Selection:

EMC:

3 (6-channel configuration achieved by daisy-chaining two units)
Simultaneous
40V peak-to-peak differential (at gain=0.4)
Software selectable 0.4,1,2,4,8
Selectable sensitivity common for all 3 channels
EN55022, EN55011 FCC Part 15

PERFORMANCE

Shared Input Noise:
Dynamic Range:

0.5 counts RMS (of 24 bits)
142 db typical (max. sine wave above shorted input level)

DIGITIZER

Type:
Digital Filter:
Filter Type:

Proprietary high order sigma-delta
140 db attenuation at output Nyquist frequency
Linear Phase

DATA OUTPUT

Output channels:
Output Sample Rates:
NMXbus ports:

1,2 or 3
10,20,40,50,100,200,500 sps
2

COMMAND AND CONTROL

Calibrate:
Mass Centre:
Configuration:
Software Upload:
Test Code:
Reboot:

Initiates calibration sequence
Initiates mass centering
Get/Change/Save/Copy current configuration
Upload new firmware
Allows the user to test new code downloaded via the NMXbus
Reboots the digitiser

POWER

Supply Voltage:
Power Consumption:
Protection:


9-36 V (over NMXbus)
750 mW typical, 100 sps continuous aquisition
Reverse-voltage and over-voltage protected
Self-resetting over-current protection

ENVIRONMENT

Operating Temp:
Packaging:

-20°C to +55°C
Machined aluminum, IP-67 compliant

INSTRUMENT STATE-OF-HEALTH

Power Supply Voltage:
Temperature:
3 External Inputs:
Diagnostic SOH:


DC Voltage from NMXbus
Internal temperature
Input voltage, commonly used for mass position
A number of software diagnostic and statistical counts are also included as SOH messages

TIMING SYSTEM

Type:

Time Accuracy:
Internal Oscillator:

UTC timed with digitally controlled VCXO clock disciplined by GPS time code receiver
<10 µs with GPS locked
1 ppm
Great companies are built on great products.