Trillium Compact Broadband Seismometer
Summary
The Trillium Compact offers low-noise broadband seismometer performance with physical dimensions comparable to geophones. It measures only 5.04 inches in height and requires no mass lock or mass centering.
Its exceptionally high clip level of 26 mm/s permits on-scale recording of larger events closer to the source. It features an Integrated web server for efficient instrument management and ultra-low power consumption of just 160 mW.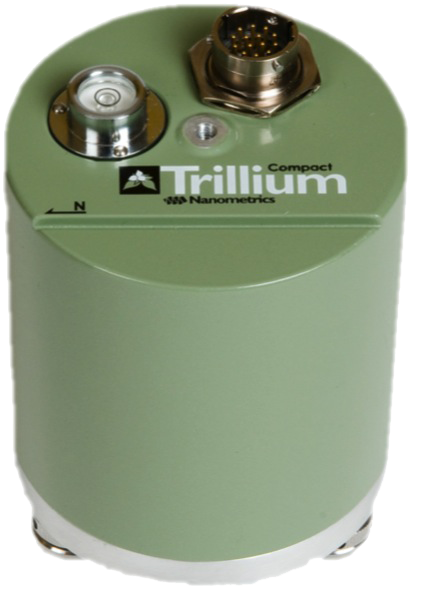 The Trillium Compact is available in several variants to facilitate vault, surface or buried downhole deployments.
The 120s variant incorporates a symmetric triaxial force feedback sensor design with a response flat to velocity from 120 seconds to 100Hz.
The 20s version features the same force feedback sensor design with a response flat to velocity from 20 seconds to 100Hz, as well as industry-leading tilt tolerance of 10 degrees, making deployments very fast and efficient in various surface conditions. Several base foot options are available for different terrains.
The Trillium Compact Posthole, available in 120s and 20s variants, features a stainless steel enclosure and waterproof connector ideally suited for downhole deployments.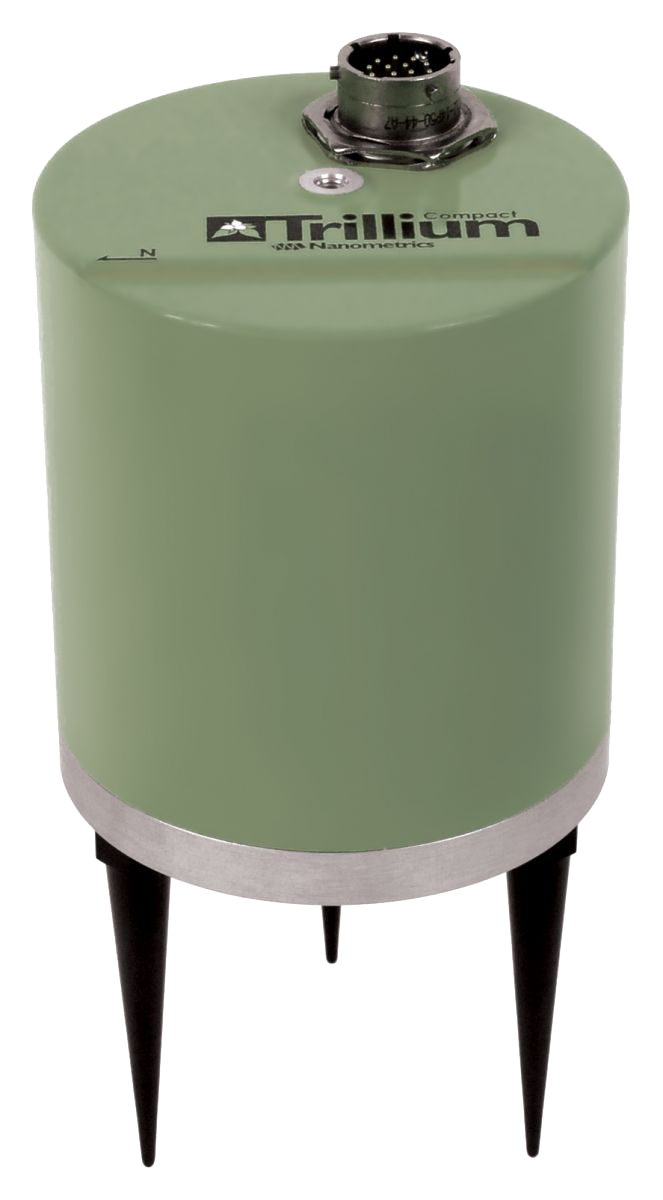 Nanometrics' Trillium Compact might be right for you if:
You're looking for the superior performance of a broadband seismometer with the installation convenience of a rugged geophone
You want improved noise floor at high frequency
You value easy deployment and minimized site preparation
You don't want to sacrifice station reliability for low operating costs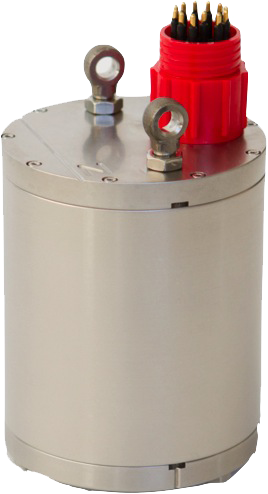 Specifications
Specifications are subject to change without notice.
TECHNOLOGY
Topology
Symmetric triaxial
Feedback
Force balance with capacitive transducer
Mass centering
Not required
PERFORMANCE
Sensitivity - 120s
750V-s/m nominal ±0.5% precision
Bandwidth - 120s
-3 dB points at 120 s and 100 Hz
Sensitivity - 20s
750V-s/m nominal ±0.5% precision
Bandwidth - 20s
-3 dB points at 20 s and 100 Hz
Off-axis sensitivity
±0.5%
Transfer function
Lower corner pole frequency within ±0.5% of nominal provided
High-frequency poles within 1 dB of nominal up to 45 Hz
No peak in response at high frequency
Clip level
26 mm/s from 0.1 Hz to 10 Hz
Operational tilt range - 120s
±2.5°
Operational tilt range - 20s
±10°
Parasitic resonance
None below 200 Hz
Dynamic range
>152 dB @ 1 Hz
INTERFACE
Connector - surface
14-pin, shell size 12, MIL-C-26482 Series I, top mounted
Connector - downhole
16-pin, underwater SubConn MCBH16MSS, top mounted
Velocity output
±20V peak (40V peak-to-peak differential)
Selectable XYZ or UVW mode
Mass position output
Single voltage output representing max. mass position
3-channel mass positions available through serial port
Calibration input
Single voltage input and one active high-control signal to enable all 3 channels
Remote calibration in XYZ or UVW mode
Independent channel selection by serial port
DIGITAL COMMAND & CONTROL INTERFACE
Digital interface
RS-232 compatible serial IP (SLIP)
Onboard web server standard HTTP
Digital commands
XYZ, UVW mode switching
Calibration channel selection (off, enable all, U, V or W)
Short/long period mode
Firmware updates
State-of-health request
Digital data outputs
Independent mass position values
Instrument temperature
Factory sensitivity
User calibration data (poles and zeroes)
Instrument serial number and firmware revision
PHYSICAL
Diameter
90 mm (3.54")
Height
100 mm (3.93") - body only
Housing
Surface resistant to corrosion, scratches and chips
Alignment
Vertical scribe marks for N/S
Precision N/S-E/W guide in top of cover for straight-edge, line or laser level
Immersion rating
IP67
POWER
Supply voltage
9 to 36 V DC isolated inputs
Power consumption
<180mW typical (model TC120-SV1)
<195mW typical (model TC20-SV1)
Protection
Reverse-voltage and over-voltage protected
Self-resetting over-current protection revision
ENVIRONMENTAL
Operating temperature
-40°C to +60°C
Storage temperature
-65°C to +75°C
Shock
100 g half sine, 5 ms without damage, 6 axes
No mass lock required for transport
Magnetic
Insensitive to natural variations of the earth's magnetic field
Performance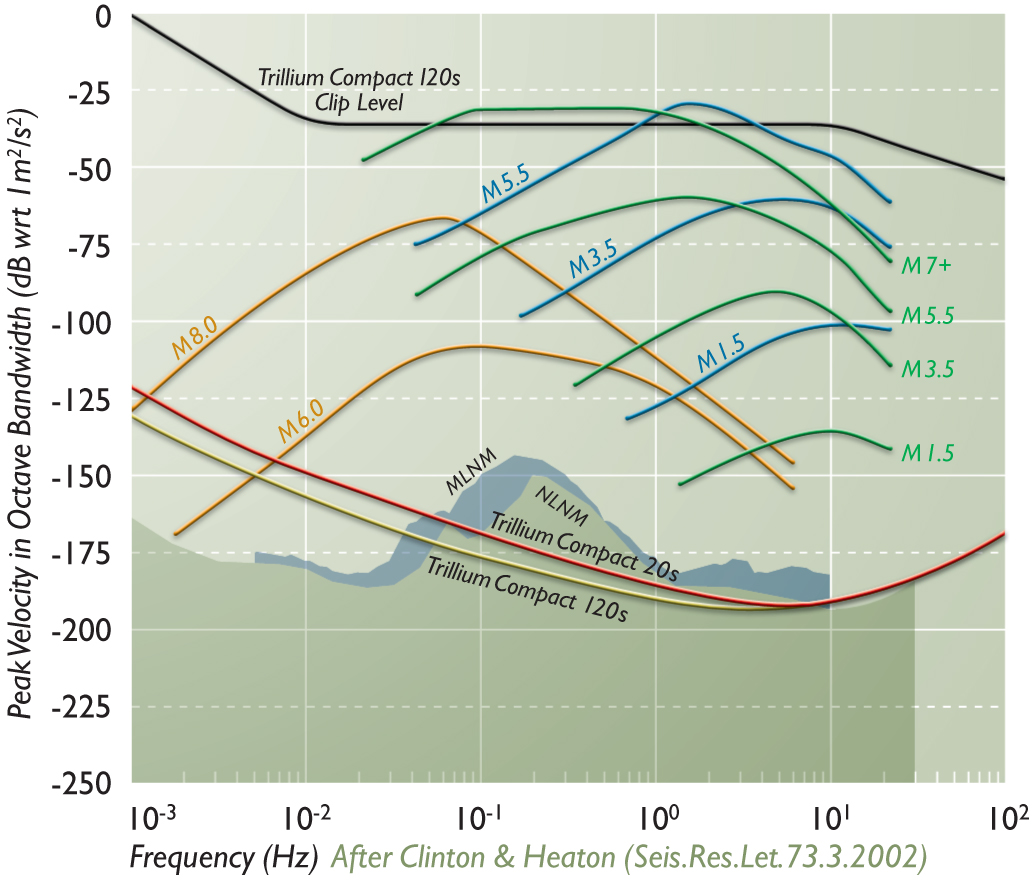 It is not about ideas. It is about making ideas happen.